New syllabus–the Pandemic Edition
Teaching in a time of crisis. Whoa, boy. I already don't like it!
Like many educators,  I've been struggling recently to adapt my courses for an online environment. Namely, I've had to spend the last week just coming to terms with the fact that this second half will be different. Very different. There's just no way to keep the in-class magic or carefully developed, complicated assignments. Not in the face of a worldwide pandemic, through-the-roof levels of anxiety, financial uncertainty, illness, etc.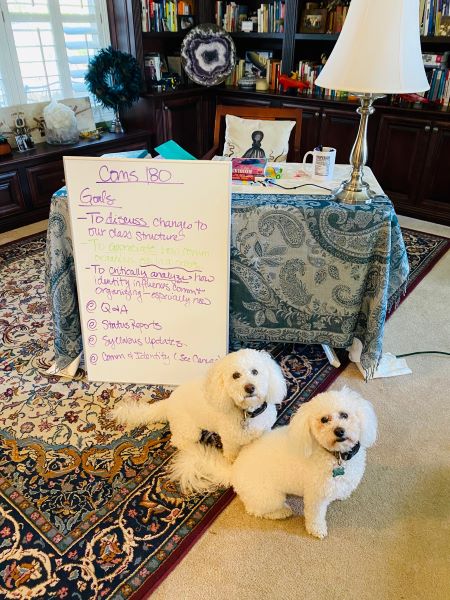 I've especially struggled with assignments and grades. I teach a capstone senior seminar class–what should be the place for students to craft original research and demonstrate their readiness for the great wide world. And I have exacting, but fair standards.
But is it fair to keep them in our current crisis climate? When I know many of my students have just lost their jobs and are struggling to pay bills? When many of them will be caring for children and grandparents while attempting to take classes? When I'm sure at least ONE of them is dangerously low on TP? (Ha!) No, of course not.
Now is the time for grace and understanding and survival.
So after consulting my classes and giving them opportunities to weigh in on assignments and structural changes (as well as their connectivity and needed resources), I've retooled my syllabus and overall class structure. To give the students a clear sense of what's changed, I noted all pandemic amendments in hot pink. Because why not?
Behold: S2020 COMS 180 Senior Seminar in Org Comm–Online edition
The new plan includes keeping as much structure as possible, meaning regular class-time check-ins and interactions, but also options for those who can't participate synchronously. Assignments are pared down to fundamentals. And the grading, as I mentioned in the syllabus, will err on the side of generosity and compassion. I can't do much for my students from inside my living room, but I can do that.
Of course, I am a wreck right now. For whatever reason, hitting print on the revised syllabus PDF made the waterworks start. I'm so sad for my classes because they were both just magical. Each had its own personality and community. I hope we can find some semblance of that online with the solid foundation that we've built together. We shall see.
And also, I just decided: For our final day of class, I'll be wearing my regalia and toasting them. And now I'm blubbering again.
–dr. shawna